If you're investing in a printer, use Brother Genuine supplies to ensure it performs at its best. They've been shown to be of higher quality, last longer, and be safer than non-genuine alternatives. To get the most out of your Brother printer, make sure you use Brother Genuine supplies. They've been discovered to be of higher quality, last longer, and are safer than knockoffs.

Why Buy Genuine Brother Toner and Ink?

Consistent quality Printouts:
Experience consistently high-quality printouts with no streaking or smudging. Enjoy true-to-life images that can last for decades without fading.

Save Time and Money:
Print without worrying about maintenance costs and increase your machine's lifespan. Save money, time, and paper due to less downtime or repairs.

Keep Your Warranty Valid:
The use of non-genuine supplies may damage your Brother machine and void the warranty.

Optimal Printing Performance:
Specially produced with high-quality control, they are the perfect match for Brother printers. Benefit from leak-free, higher volume printing.

ISO Standard For Page Yield:
All our ink/toners meet stringent ISO testing standards for page yield. Compatible or counterfeit supplies may not comply with these ISO standards and may not produce at the same page yield.

Durable & Tested to the Extreme:
Brother's genuine TZe laminated labels are super thin and designed to withstand water, grease, fading, and abrasion. They are used in businesses such as manufacturing, electronics, data-communications, chemicals, engineering, and more.

Be aware compatible/counterfeit Ink/Toners are Often advertised as cheap or discounted, consumables are made by other companies and may work with machines from various manufacturers. As a result, they are not a perfect fit for Brother printers and may cause smear & clog damage to your machine or print in poor quality i.e. faded prints.

How to identify brothers' genuine Ink or toners?

1. Examine the label:
Authenticate by tilting the label against light to verify the genuine Brother hologram, or referencing it with the pictures below: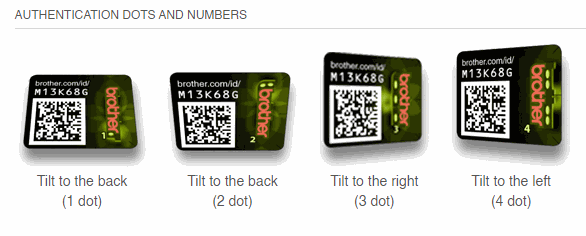 2. Mobile Authentication:
Authenticate by scanning the QR code on the label using Brother Support Center app or data matrix reader app.





 3. Web Authentication:
Authenticate by checking the ID number on the label through the Brother Authentication Website.

When all of the facts and pricing are considered, it's clear that Brother's safe, precision-engineered supplies are the best choice for your business. Increased reliability, efficiency, reduced downtime, and improved print quality combine to provide an appealing offer that you can count on every day. We build trust with consistency.

Start writing here...