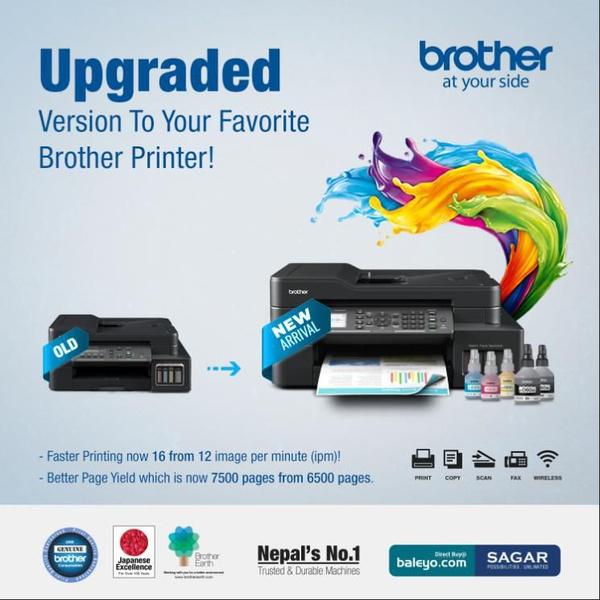 Regular updates and upgrades are necessary no matter what the products are. This ensures consistency in the performance and implementation of improved technological advances. This is why Brother Printer has upgraded your favorite printers with more advanced and updated versions! 
DCPT310 - DCP-T220 
T310 now upgraded to version T220! With even faster printing speed which is now 16/9 ipm. Not only this, but this version offers more ink-bottle yield up to 7500 pages. Users get improved image quality up to 1200x6000 dpi print quality! Print, scan and copy your projects in vibrant color schemes or in monochrome with the fastest print-out time of 6.5 or 10 seconds depending on the colors used. 
DCP-T420W : 
Our latest addition to our Inkjet printer series, DCP-T420W. For professional, high-quality images it is one of our fastest printers yet with 16/9 ipm print speed. Not to mention up to 6.5 seconds for mono and 10 seconds for color printing.  Now with wireless connectivity with easy connectivity through Brother iPrint & Scan, Mopria, and Wireless Direct!
DCP-T510 - DCP-T520
T510 now upgraded to T520, a faster and more efficient version. The speed is immaculate now at 17/9.5 ipm. In addition, the image quality is improved now supporting images up to 1200x6000 dpi. Saving you even more on the long run, the average ink-bottle yield is 7500. Now print with Brother iPrint & Scan, Apple Airprint, Morris, and wifi-direct as well!
DCP-T710DW - DCP-T720DW
Print, scan and copy at a lightning fast speed of 17 ipm now with T720DW, an upgraded version of T710DW. Now with auto Duplex printing, with a cost-effective page yield of 7500 pages. Additionally, users are also able to now print through Brother iPrint & Scan, Apple Airprint,
Mophris and wifi-direct! Get an immaculate first-page print speed of 6.5 seconds on average. 
And these are just a few of the upgraded features! With Brother, we always inspire to bring you the best of what technology can offer. Feel free to leave any questions to us down in the comment sections below. We will soon be updating you about the availability of these models, so keep up! 
DCP-T820DW
Fastest, a cost-effective, powerful and advanced addition to our Brother Inkjet Printer series.  Automatic Duplex printing option with high 17/16.5 ipm print speed. With the highest page yield of up to 7500 pages, it features 1200x6000 dpi print quality. Supports both Ethernet & Wireless connectivity for print, scan, copy on the go! 
MFC-T910  -  MFC-T920
T910 upgraded to T920DW. Updated for Auto Duplex printing in a cost-effective and time-saving manner! It features a faster print speed of up to 17 ipm which is comparatively quicker than the last version. In other words, the average first print-out time is 6.5 seconds. Not only this, the upgraded version now features a Color LCD with an advanced keypad for efficiency. Saving you on your energy, time, and effort, you also get more page yield now at 7500 pages on average. 
With these updated versions of our Brother Printers, you get better, faster and higher quality results. Copy, Scan and print effortlessly with better connections with ethernet, and wireless connectivity as well. And that too for an affordable price! So why wait? Get your hands on the latest versions of Brother Printers! Coming soon at Baleyo!