Let's discuss the benefits of owning a projector!
You can enjoy the best of your home theatres, take your conferences and presentation to the next level, and watch live matches that will never be this exciting! So pretty much, a projector is essential! But which one? Amongst thousands of options, choosing the best projector is definitely a hassle. This is why we are here to answer your dilemma. Introducing NEC NP-VE303XG Projector! Before coming to a conclusion, lets us explain why we are doting on this new addition to the NEC projector series. 
Compact & lightweight, take it anywhere you want to as the VE series is built for portability. The picture and sound quality are obviously the highlights here and compare with other best projectors out there! Featuring 10,000:1 contrast and built-in 2W speakers, you get an amazing projection each time.
Not to mention the BrilliantColor which includes the 6-segment color wheel for accuracy in color reproduction!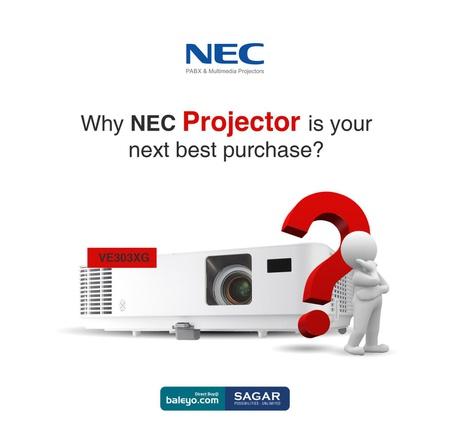 Care about energy consumption? This projector features a carbon savings meter with ECO mode and helps extend the lamp life.
Another amazing thing here is the SmartSource 3D-ready feature that supports multiple 3D formats! Great for 3D movie nights at your home! 
Even the price is reasonable considering all of the features you get! So if you are looking for the best projector with all the features and for just the right price, NEC VE303X is the way to go!
Ideal for your classrooms, and home theatres, and to take on all your future adventures, get the best deal and make the best purchase of 2021! 
Learn More>> https://bit.ly/3xYh1zU