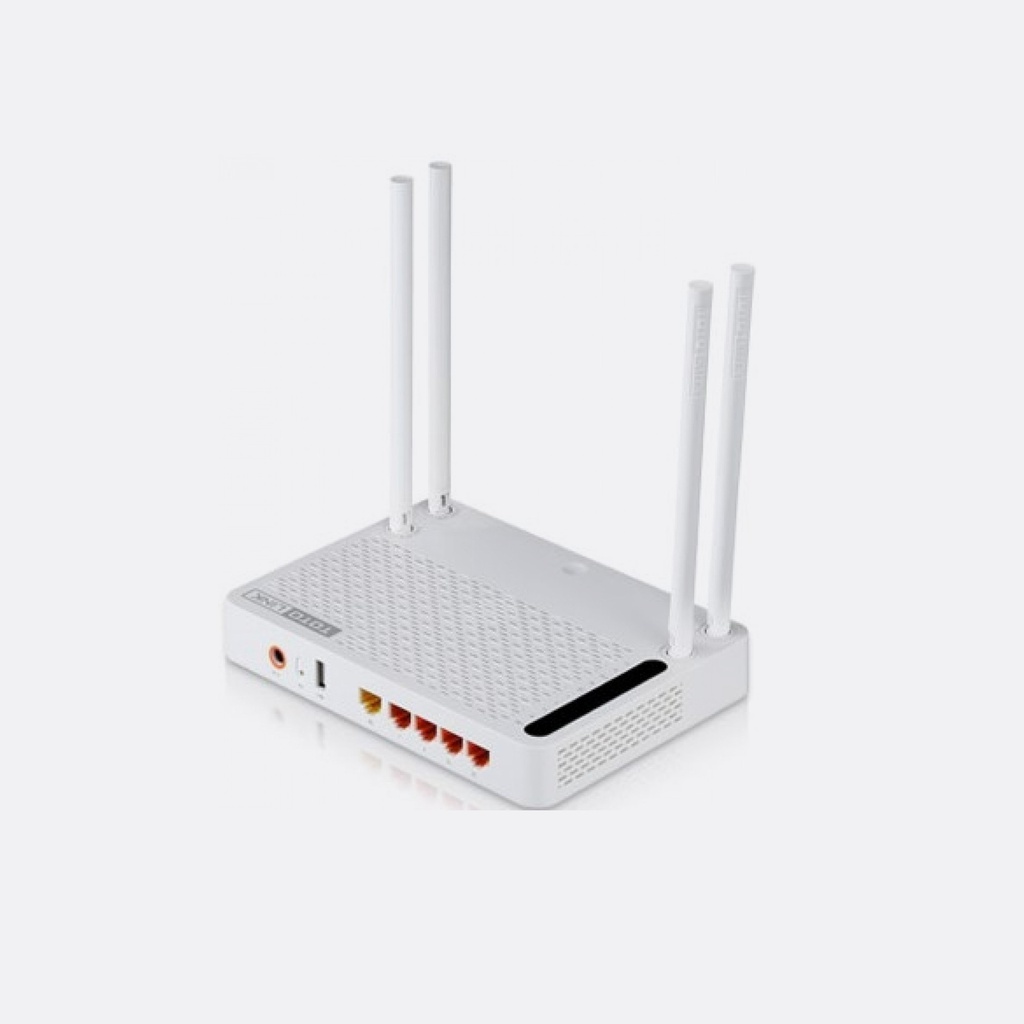 TOTOLINK A-2004NS Dual Band Gigabit Router
- Complies with 802.11ac/a/b/g/n standards
- 300Mbps on 2.4GHz and 867Mbps on 5GHz band simultaneously
- Four fixed high gain antennas with advanced MIMO technology
- Multi-SSID allows you to create multiple SSIDs according to their needs
- Provided 64/128-bit WEP, WPA, WPA2 & WPA-Mixed security
- Supports IP, MAC, URL filtering and Port Forwarding
- Universal repeater and WDS function for easy WiFi extension
- One USB2.0 port supports Samba Service, FTP Services and URL Service
- The VPN server can not only protect the privacy of your information, but also simplify network management
TOTOLINK A-2004NS Dual Band Gigabit Router

A2004NS is a fifth-generation Wireless Dual Band Gigabit Router, which complies with the most advanced 802.11ac standard and can deliver Wi-Fi speed up to 1167Mbps. Featured by simultaneous dual-band and four external high gain antennas, it provides a stable network connection for Internet access with less interference. Besides, FTP Service and Samba Service supported by the USB2.0 port is very convenient for high-speed big file sharing.
Key Features
- Complies with 802.11ac/a/b/g/n standards.
- 300Mbps on 2.4GHz and 867Mbps on 5GHz band simultaneously. 
- Four fixed high gain antennas with advanced MIMO technology.
- Supports PPPoE, DHCP, and Static IP broadband functions.
- Five Gigabit Ethernet Ports ensure ultrafast data transmission rate.
- Multi-SSID allows users to create multiple SSIDs according to their needs.
- Provides 64/128-bit WEP, WPA, WPA2, and WPA-Mixed security.
- Connects to secure network easily and fast using WPS.
- Supports IP, MAC, URL filtering, and Port Forwarding. 
- Universal repeater and WDS function for easy Wi-Fi extension.
- One USB2.0 port supports Samba Service, FTP Service, and URL Service.
- The VPN server can not only protect the privacy of your information but also simplify network management.
Product

Brand

TOTOLINK

Product Name

TOTOLINK AC1200 Wireless Dual Band Gigabit Router with USB Port

Model

A2004NS

Standards

IEEE 802.11ac, IEEE 802.11n, IEEE 802.11g, IEEE 802.11b, IEEE 802.11a

Country of Origin

South Korea

Interface

4 *10/100/1000Mbps LAN Ports

,

1 *10/100/1000Mbps WAN Port

General Functions

VPN Server(5 VPN tunnels), USB Storage, 2 *5dBi Fixed Antennas(2.4GHz ), 2 *5dBi Fixed Antennas(5GHz ), Dual Band

Button

1 *WPS Button, 1 *RST Button

LED Indicators

1 *Power, 1 *CPU, 1 *2.4G Wireless, 1 *5G Wireless, 1 *WAN, 4 *LAN, 1*USB

Antenna

2 *5dBi Fixed Antennas(2.4GHz ), 2 *5dBi Fixed Antennas(5GHz )

RF Frequency

2.4GHz/5GHz

Data Rate

2.4GHz: Up to 300Mbps 5GHz: Up to 867Mbps

Wireless Security

64/128-bit WEP, WPA/WPA2, WPA-PSK/WPA2-PSK (TKIP/AES)

Channels

2.4GHz: 1-11 (North America), 1-13 (General Europe), 1-14 (Japan) 5GHz: 36~165

Modulation Type

DBPSK, DQPSK, CCK and OFDM (BPSK,QPSK,16-QAM/ 64-QAM)

Reception Sensitivity

270M: -64 dBm@10% PER, 135M: -61 dBm@10% PER, 54M: -68 dBm@10% PER, 11M: -85 dBm@8% PER, 6M: -88 dBm@10% PER 1M: -90 dBm@8% PER

Network Settings

WAN Type: PPPoE/DHCP/Static IP, LAN Interface, LAN/DHCP Server

NAT/QoS

Port Forwarding DMZ/Twin IP Port Trigger Routing Table,QoS Connection Control Wired Port Link (speed, duplex)

Firewall Settings

VPN Server(5 VPN tunnels), USB Storage, 2 *5dBi Fixed Antennas(2.4GHz ), 2 *5dBi Fixed Antennas(5GHz ), Dual Band

Management

System Log, User Name & Password, Firmware Upgrade, System Time, Configuration backup/restore

Environment

Warranty

2 years

Environment

VPN Server(5 VPN tunnels),DDNS, WOL, Host Scan

Power

12V DC/2A

Connectivity

Wireless

Multiple BSS, Multibridge(Repeater): Wireless Bridge/Wireless WAN, MAC Authentication, WDS, WPS