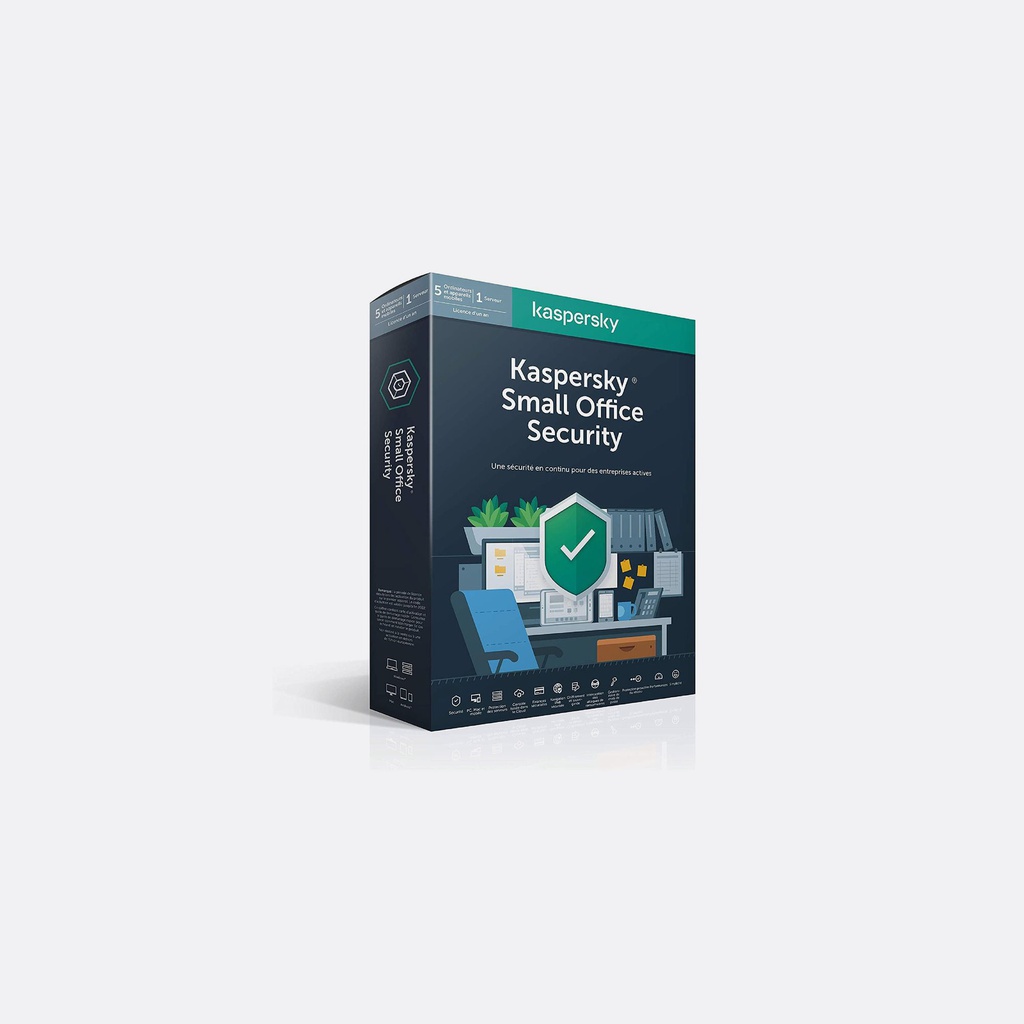 Kaspersky Small Office Security - 1 Server + 10 Workstations , 1 Year
- 'Set and forget' security
- Protect your office on Windows and Mac PCs and laptops
- Protect Windows file servers to secure the files you value most
- Secure Android devices to let employees work safely on their personal smartphones and tablets
- Rely on advanced ransomware protection and rollback just in case someone makes a mistake
- Pay bills and taxes safely online with Safe Money
- Secure and store your high-value files with File Encryption and Backup
- Make sure the apps you use are safe with built-in vulnerability scanning and timely updates
Kaspersky Small Office Security
Kaspersky Small Office Security combines the simplicity of home PC protection with special capabilities to keep your business safe while employees are working. It provides comprehensive protection against various types of information security threats, network and phishing attacks, and spam.
Each type of threat is handled by a dedicated protection component. You can enable and disable protection components, and configure their settings.
In addition to the real-time protection provided by the security components, we recommend that you regularly scan your computer for viruses and other malware. This is necessary in order to prevent any possible spreading of malicious programs that have not been discovered by protection components, for example, because a low security level was set or for other reasons.
Key Features
Advanced ransomware protection and rollback to avoid someone's accidental click makes computers locked down
File Encryption and Backup to secure your intellectual property and trade secrets 
Safe Money to pay bills and taxes online with confidence 
Android device protection so your employees can work safely from their personal smartphones and tablets
Built-in vulnerability scanning to ensure the business apps you use are safe from intrusion


| | |
| --- | --- |
| Brand | Kaspersky |
| Product Name | Kaspersky Small Office Security |
| Model | 1 Server + 10 Clients (Workstations) |
| Country of Origin | Russia |
| General Functions | World Class Security, Internet Protection, Business Data Protection, Password Manager, Mobile Device Security |
| Activation Information | No |